http://api.flickr.com/services/feeds/photos_public.gne?id=56321132@N06
FollowCMT
Fr. Rother Anniversary Mass
Posted By: Jamie
On: August 5th, 2013
Comments Off

on Fr. Rother Anniversary Mass
July 28, 2013 – Holy Trinity Parish, Okarche, Oklahoma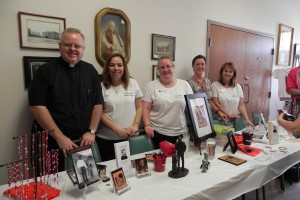 What an absolutely beautiful day for a beautiful celebration!!  I sang The Shepherd Cannot Run during mass celebrated by Archbishop Paul Coakley.  It is such a special and humbling experience to be a part of mass – especially at Holy Trinity – Fr. Rother's boyhood parish.  The parishioners were fantastic hosts outdoing themselves with a wonderful picnic lunch after mass complete with rows and rows of dessert tables!!  I think I gained 10 pounds just looking at all the tasty treats!
The Father Stanley Rother Guild had a table displaying our favorite Fr. Rother items.  Pictured is Guild Director, Fr. Price Oswalt with fellow guild board members.  If you would like to be a part of the guild or would like more information, please visit http://www.fatherstanleyrotherguild.org  We would love to have your prayers and support!
There was also a cakewalk, face-painting and balloons for the kids – which made for plenty of fun!  After the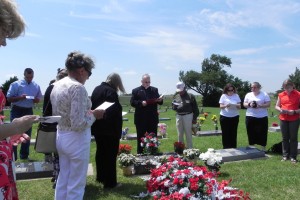 festivities a closing graveside ceremony was held at the cemetery.  It was an inspiring day.  I so hope Fr. Rother is named a saint in my lifetime – please pray for the cause!
Comments Closed
Comments