http://api.flickr.com/services/feeds/photos_public.gne?id=56321132@N06
FollowCMT
Daily Oklahoman Article July 21, 2012
Posted By: Jamie
On: July 21st, 2012
Comments Off

on Daily Oklahoman Article July 21, 2012
Catholics plan gathering to honor slain priest
Holy Trinity Catholic Church in Okarche is preparing a day of activities to celebrate the life of martyred priest the Rev. Stanley Rother.
BY CARLA HINTON | Published: July 21, 2012
OKARCHE — A celebration of the life of a martyred priest and sainthood candidate is set for July 28 at the clergyman's home parish in this Canadian County city.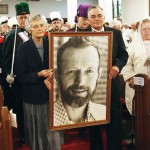 Sister Marita Rother, left, and Tom Rother, right, carry a framed photograph of their brother, the Rev. Stanley Rother, at a Mass in honor of his memory in July 2006 at Holy Trinity Catholic Church in Okarche. (THE OKLAHOMAN ARCHIVES)
The Rev. Billy Lewis, pastor of Holy Trinity Catholic Church, said the day of celebration for the Rev. Stanley Rother will include a Mass with Archbishop Paul S. Coakley and Archbishop Emeritus Eusebius Beltran as celebrants. Other activities include a tour of the church cemetery where Rother is buried and a tour of his childhood home, plus a Knights of Columbus Carnival following Mass.
Rother, 46, was killed July 28, 1981, by unknown assailants in Guatemala. A native of Okarche, Rother was serving as pastor of the Santiago Atitlán parish in Guatemala at the time of his death.
Rother's legacy has been celebrated both in Oklahoma and in Guatemala for many years since his death. A special Mass has been held at Holy Trinity, his home parish, each year around the anniversary of his death.
In 2007, the Archdiocese of Oklahoma City began the formal process to have the martyred priest declared a saint in 2007. Rother would become the first Oklahoman canonized by the Roman Catholic Church if the archdiocese's hopes are realized.
Lewis said the canonization efforts for Rother bring an added dimension to the annual Mass and celebration in his honor.
"I think the whole idea of Father Rother's move toward sainthood is pretty surreal for people," he said.
"As things happen in the cause, I think people are becoming more aware that this is huge."
Organizers of the July 28 activities said T-shirts honoring Rother will be sold throughout the day.  Also, singer-songwriter Jamie Biller will perform "The Shepherd Cannot Run" from her album of the same name. Biller has said the 2010 album was inspired by Rother's life.  Lewis said the day will include activities for all ages, particularly due to the addition of the Knights of Columbus Carnival. Lewis said the decision to blend the planned carnival with the celebration for Rother will make the day extra special as people come together to recognize the slain priest's devotion to his faith and his life of service.
Comments Closed
Comments