http://api.flickr.com/services/feeds/photos_public.gne?id=56321132@N06
FollowCMT
Precious Child
Posted By: Jamie
On: May 14th, 2011
Comments Off

on Precious Child
In May, I was asked to sing the song, "Precious Child" for Integris Baptist Medical Center's Spring Memorial Service.  This undoubtedly was something I eagerly said "yes" to while also being one of the hardest things to sing for.  This beautiful event is sponsored by Integris Health Women's Center for members of families who have lost a child.  The theme of the memorial this year was a seashell and I wanted to share the following from t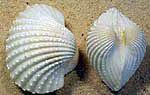 he Center for Loss and Bereavement:
What is it we can learn through this journey of grief?  Like the chambers of a shell we move, into different places and spaces…Searching for answers, looking for strength to live in the unknown, Seeking hope as we reach for peace.
I feel very blessed to have been a part of something so moving.  I know and feel that these special babies are forever loved and always remembered.
Comments Closed
Comments