http://api.flickr.com/services/feeds/photos_public.gne?id=56321132@N06
FollowCMT
Singing at School!
Posted By: Jamie
On: November 25th, 2010
Comments Off

on Singing at School!
From the El Reno Tribune; Feed My Sheep, Tend My Lambs
Jamie Biller gave a moving performance at Sacred Heart Catholi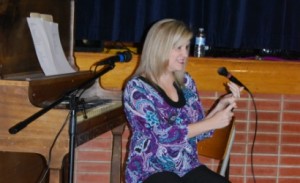 c School Thursday morning while performing her song "The Shepherd Cannot Run" . Jamie wrote and reco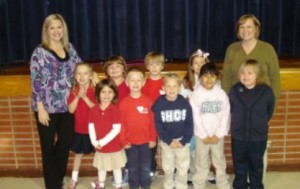 rded this song about Father Stanley Rother of Okarche. The title of the song "The Shepherd Cannot Run" comes from a letter Father Rother sent during the Christmas Holidays to the Oklahoma City Archdiocese where he declared "A Shepherd cannot run at the first sign of danger." Father Rother was aware of the danger of him remaining in Guatemala, but wanted to stay to tend to his flock. Students at Sacred Heart sat in awe and wonder and sang the chorus "Feed My Sheep, Tend my Lambs" with her.
Jamie said, "I had the song on my mind for about two years, but finally finished it in about a day in a half this summer." She recently traveled to Nashville to record it professionally and the song will be available for download later this year. Currently the song can be heard on the Oklahoma City Archdiocesan website on a page dedicated to the Beautification of Father Rother.
Comments Closed
Comments